Brook Konia (Ngāti Porou Tuwhakairiora), the fifth Attendant for the New Zealand pavilion, reflects on his time in Venice showing visitors through Post hoc at the Biennale Arte 2019.
Working at the New Zealand pavilion has me positioned inside the library of the Palazzina Canonica where I witness visitors' first encounters with the Post hoc printer. In most cases they are shocked by the amount of paper on the floor from the printer, as line by line items are printed in tandem with an automated voice reading 15,000 words a day, over 176 days, 8 hours a day, never repeating.
The large pile of billowing paper that has grown since the start of the exhibition has prompted visitors, on first impressions, to ask whether the work is a comment on humanity's ecological footprint. I respond to their reactions by pointing out the lists of words of lost things that have printed and continue to print in time with the lists broadcast to the frankenpine cell towers.  They come back to me and ask why a list of named oil platforms is sitting next to a list of artworks and unidentified space objects. I tell them the common theme for all these lists is that they are all caught in the past; extinct, vanished, abandoned, missing, no longer as they once were.
Many people acknowledge a heaviness to this work, they've told me it is a sombre feeling knowing there is so much left in the past. Some visitors have read the lists visible on the floor and spotted places and things they know – a woman told me she found her hometown theatre that had closed down. In the first week I worked at the pavilion I was unsettled by a list of Māori taonga (treasure) with missing provenance, lacking contextual information such as whakapapa (iwi-tribal connection), rohe (location origin) and mentioning 'maker unknown'.  That list continued to print for six days.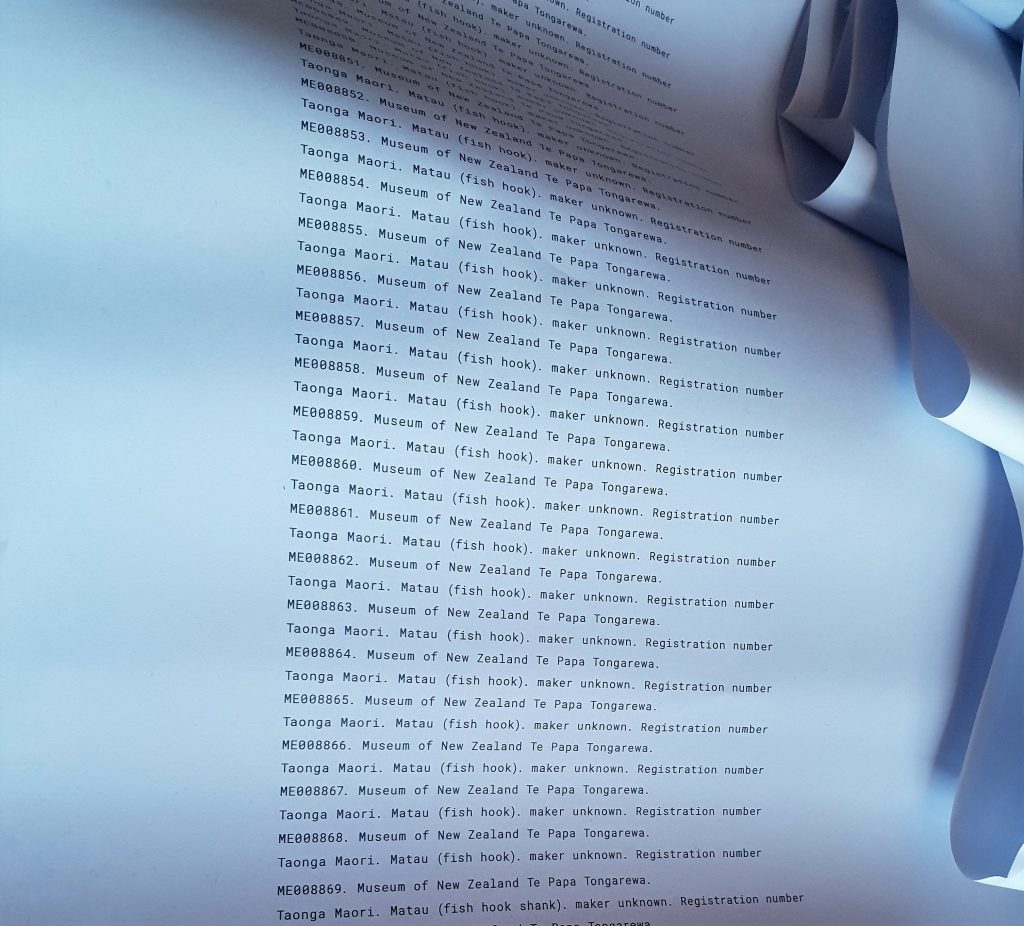 "How do I connect to Post hoc?" Many visitors have asked me this question and I can tell they have responded to the voice reading and printer printing names – they have connected and engaged with Post hoc's concept already. Of course that's not what they mean, so I assist them with connecting their various smart devices through the wifi connection and web address in their browser.
Between the different spaces of Post hoc, the pavilion's garden next to a cell tower tree, inside the library, and even over in Sant'Elena beside an offsite tree, these art-viewers have pressed play on the collected lists ­– in all of these encounters they have been moved by the work Dane Mitchell has installed. "Interesting, impressive, thought-provoking, timely, excellent," they say.