About Paradise Camp by Yuki Kihara - The Exhibition
The photographs
Paradise Camp comprises a suite of twelve tableau photographs in saturated colour, situated against a vast wallpaper of a landscape decimated by the 2009 tsunami. Eleven of the works were shot on location in Sāmoa, from rural villages to churches, plantations and heritage sites, with a local cast and crew of over eighty people.
Kihara's performative photography upcycles select paintings by post-impressionist French artist Paul Gauguin in a suite of images that repurpose his paintings created during his time in the Islands of Tahiti and the Marquesas between 1891 and 1903. Kihara problematises Gauguin's outsized legacy by re-enacting his paintings back in the Pacific, paying careful attention to the details of his works. These re-enactments instill a Polynesian inflection to each photograph and are based on strong personal relationships with Kihara's sitters, all of whom are part of the Fa'afafine and Fa'atama communities. Kihara works with these models to represent her own vision of Paradise, redirecting the viewer to the concerns of contemporary Pacific Islanders and 'returning the gaze' in a profound gesture of empowerment.
In one photograph within the suite, Kihara casts herself as Gauguin in Paul Gauguin with a hat (After Gauguin). Through this ingenious role reversal, Kihara commands her own space within the traditions of art history while upending the conventions of portraiture itself.
View all photographs here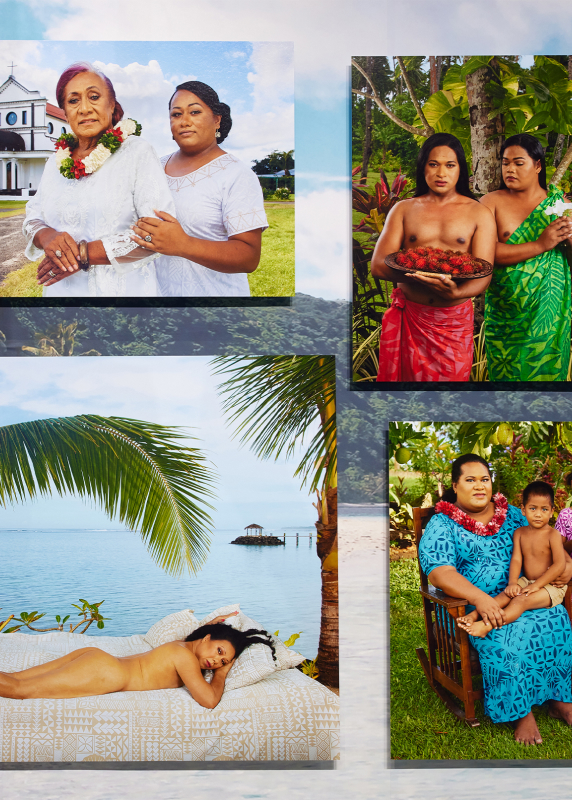 Paul Gauguin with a hat (After Gauguin)
Amongst Kihara's suite of twelve photographs is an elaborate self-portrait. The work is set apart as both the only photograph shot outside of Sāmoa, and the only photograph featuring Kihara herself.
Inspired by the faleaitu (house of spirits) skits performed in Sāmoan culture, Kihara returns indoors to a studio in Auckland, casting herself as Gauguin. Paul Gauguin with a hat (After Gauguin) transforms Kihara via prosthetics, costume, moustache and wig.
Through this ingenious role reversal, Kihara performs the penultimate inversion of the white, male, European gaze. In adopting the guise of Gauguin, Kihara commands her own space within the traditions of art history, speaking back to the histories of colonial portraiture as a bold decolonial undertaking.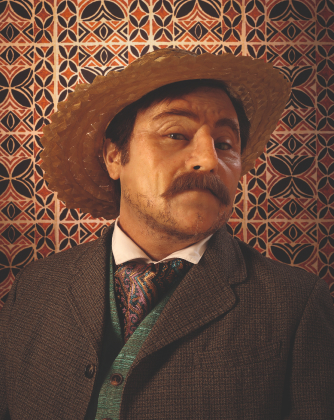 Vārchive
Kihara's Vārchive is an exhibition within an exhibition. Usually, an archive collects and classifies historical documents and records, but for Paradise Camp, Kihara reformats the conventional archive into her Vārchive – a term coined by the artist to introduce the concept of Vā into the archive. Renowned Sāmoan writer Albert Wendt describes the Vā as 'the space between, the betweenness, not empty space, not space that separates but space that relates, that holds separate entities and things together'.
The Vārchive includes personal research, rare books by 19th century explorers, colonial portraits, pamphlets, news items, a geological sculpture, activist material and visual links between Gauguin and Sāmoa.
Kihara's alternative and exploratory Vārchive rejects rigid conventions to draw surprising and uncanny connections between pop culture, ethnography, aesthetic anthropology and historical imagery. The vārchive represents Kihara's deep research into Polynesian Queer histories and provides a living story of how Paradise Camp came into being.
Experience the full Vārchive through our Virtual Explore
First impressions
On the single channel projection in Paradise Camp is First Impressions: Paul Gauguin a five-part episodic talk show featuring a group of Fa'afafine and Fa'atama critiquing selected works by Paul Gauguin, who is both essentially unknown and irrelevant to them.
The five guests wittily comment on the appearance of Gauguin's paintings with hilarity and insight. The selected works — created during Gauguin's time in Tahiti and the Marquesas — are believed to feature Māhu – the Tahitian 'third gender'. Speaking from their unapologetically Fa'afafine and Fa'atama positions, the cast offer disarming insight and candour as they review Gauguin's work, simultaneously critiquing Gauguin and empathising with his sitters. Hosted by Anastasia Fantasia Vancouver Stanley (Queen Hera) and commissioned by the Fine Arts Museum of San Francisco and The Ny Carlsberg Glyptokek, Copenhagen, First Impressions draws us into the Paradise Camp universe.
Trailer for First Impressions: Paul Gauguin 2018. Commissioned by Fine Arts Museum of San Francisco and Ny Carlsberg Glyptotek, Copenhagen.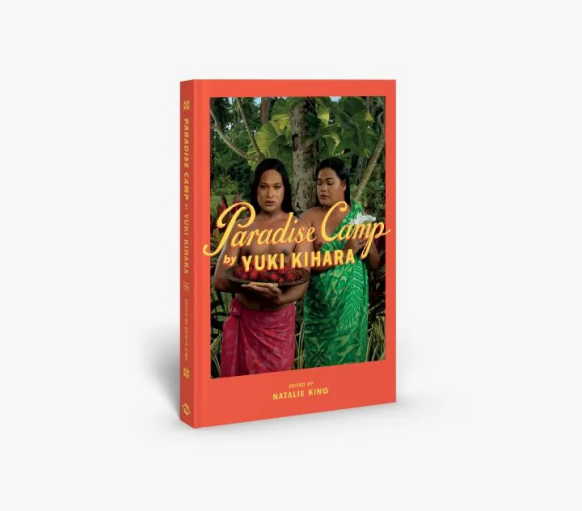 Accompanying the exhibition is a substantial new publication that is a hybrid of exhibition catalogue and book. Published by Thames and Hudson and edited by Natalie King, it features over ten commissioned contributors from around the world and explores the interwoven strands running through Paradise Camp.
High-profile contributors include Cuban artist, scholar and activist Coco Fusco; Tahitian author Chantal Spitz; Sāmoan artist and writer Dan Taulapapa McMullin; renowned Gauguin scholar Professor Elizabeth Childs; Filipino curator Patrick Flores; Māori activist, Emeritus Professor and Venerable Elder Scholar Ngahuia Te Awekotuku; and scholar, and Paradise Camp curator, Natalie King OAM.
The publication includes poems, archival images, reflections, a substantial interview and a chronology of Yuki's personal, professional and political history by Ioana Gordon-Smith.
Firsts Solidarity network
An informal Firsts Solidarity Network of national pavilions has been established for the 59th International Art Exhibition, La Biennale di Venezia.
Spearheaded by Kihara, the first artist from New Zealand to present at the Biennale Arte who is Pasifika, Asian and Fa'afafine, this artist-led initiative comprises artist/s who are a first-time representative from a marginalised or under-represented group in their respective country or a first-time country participant at the Biennale.
The network has produced a map to offer visitors to Venice a route to discover these 'firsts' at the global art world event. For artists and curators, the network offers practical advice and camaraderie among participating pavilions.
The Firsts Solidarity Network includes Albania, Great Britain, Nepal, New Zealand, Poland and Singapore.
Learn more about the Firsts on e-flux's website.
Join the

Paradise Camp


mailing list
This message is only visible to admins.
Problem displaying Facebook posts.
Click to show error
Error: Server configuration issue