New Zealand at Venice: Paradise Camp by Yuki Kihara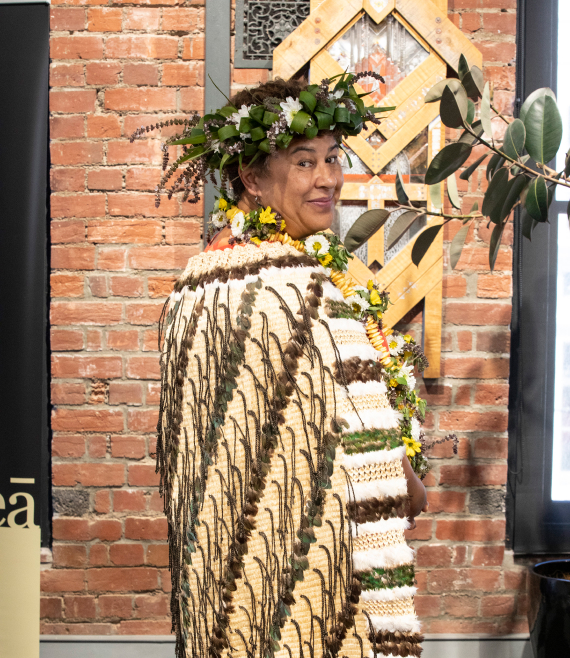 "The selection of Yuki was a significant one, highlighting that we are overdue to be including Pacific Indigenous perspectives in global dialogues. Biennale Arte (the Venice Biennale) provides an exceptional opportunity for international exposure for New Zealand art and our artists to showcase their work on the world cultural stage."
Caren Rangi
Commissioner, New Zealand at the 59th International Art Exhibition, La Biennale di Venezia, 2022
First Impressions: Paul Gauguin (2018) episodic talk show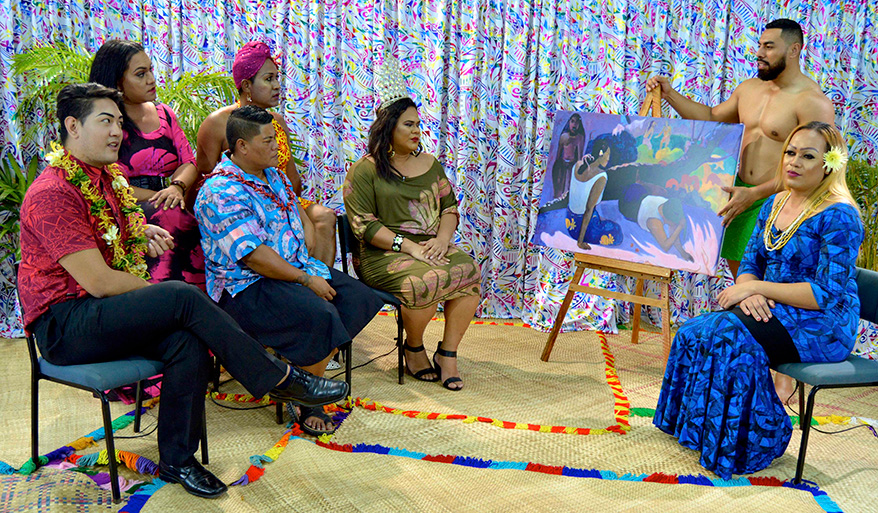 Written, directed and produced by
Yuki Kihara
Associate Producer and projection manager
Dionne Fonoti
Director of Photography and Editor
Sagapolutele Ulaulā Jensen
Set Designer
Yuki Kihara
Music
Courtney-Savali Andrews
Cast
Anastasia Fantasia Vancouver Stanley
(Queen Hera)
Vanila Heather
Keli Tuatagaloa Laban
John Lemoa
Carlize Leo
Saunoa Poai (Sandora)
Dallas Siatini
Commissioners
Fine Arts Museum of San Francisco
Ny Carlsberg Glyptotek, Copenhagen
Supported by
National University of Samoa
Milford Galleries Dunedin
Paradise Camp (2022) photographic series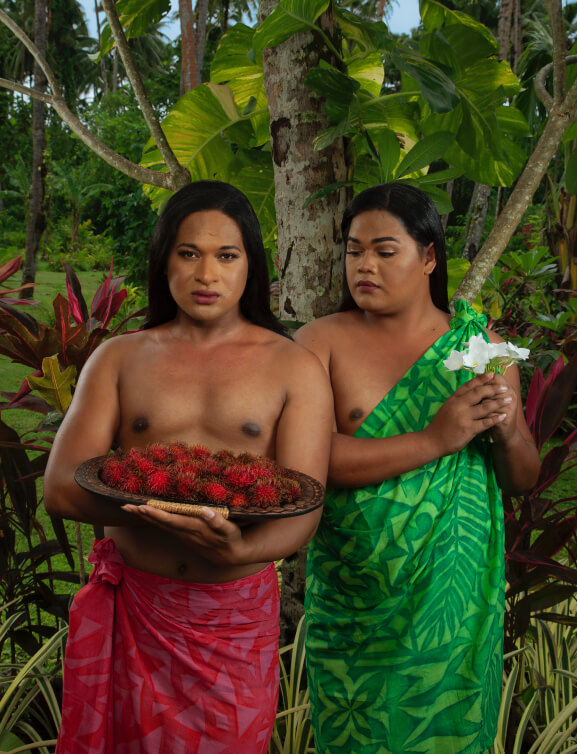 Written and directed by
Yuki Kihara
Production Manager
Dionne Fonoti
Director of Photography
Evotia Tamua
Cast
Liuana Ah Fook
Mua Aumua
Cindy of Sāmoa
Tyra Fanks
Arrah Farani
Ofisa Filipo
Vanila Heather
Celine Hunter
Mandy Lynn Joyce
Apelu Kamako
Sonya Lavata'i
Fereti Lefale
Charlize Leo
Ashley Lauano
MJ Vai Mala
Peresia Mika
Faimasui Sabrina Moesavili Rubenita
Pau
Saunoa Poai (Sandora) Lesina Rodler
Lucky Senio
Chariss Seupule
Dallas Siatini
Alex Su'a
Auta Ta'avao
Setaisu Tiatia
Fa'amanatu Tikeri (Nancy) Setu Toafa
(Aira)
Vaito'a Toelupe
Ali'ioaiga Tonumaipe'a Tanya To'omalatai
Ropeti Tuese
Joshua Tu'uula
Tiana Tu'ulua
Tiara Tu'ulua
Landowners
Amaile village - Tauiliili Kolose Fruean and Family
Falevao village - Neioti Family
Saletoga Sands Resort - Owners
Togitogiga waterfall - Ministry of Natural Resources and Environment of the Government of Sāmoa
Vavau village - Alii ma Faipule o Vavau ma le Komiti a Tina ma Tamaitai
Paul Gauguin with a hat (After Gauguin) (2022)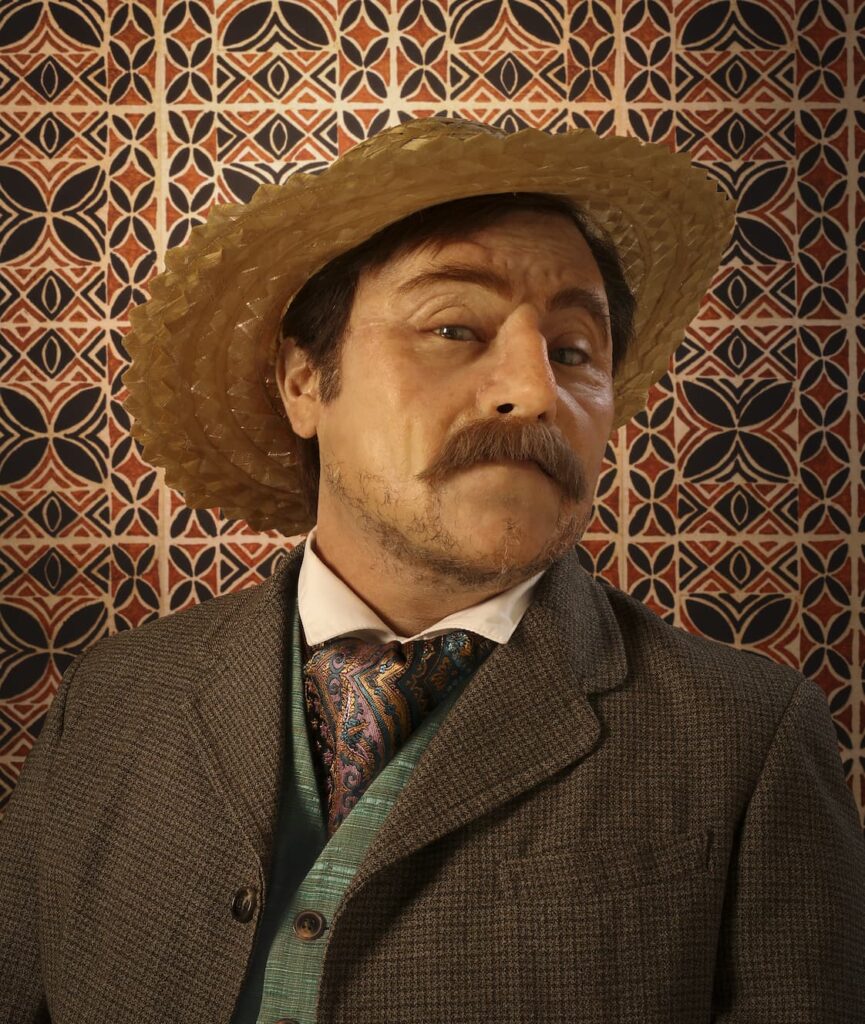 Writer and Director
Yuki Kihara
Model
Yuki Kihara
Directer of Photography
Rebecca Swan
Photographer's Assistant
Aaron Burgess
Production Manager
Teokota'i Paitai
Wardrobe
Phylesha Brown-Acton
Special Effects - Prosthetic Design
Luana Millar
Special Effects - Hair Design
Kevin Duffy
Advisory Council
Lisa Havilah, chief executive of the Powerhouse Museum
Leasiolagi Dr Malama Meleisea, former director of the Centre for Samoan Studies, National University of Samoa; founding director of Macmillan Brown Centre for Pacific Studies at Canterbury University; and director at Centre for Pacific Studies at Auckland University, New Zealand
Lelei TuiSamoa LeLaulu, chairman of the Earth Council Alliance, advises the Pacific Ocean Commissioner, and director of the Caribbean Media Exchange
Daniela Morera, curator, editor and former model based in Milan and New York; former European editor of Andy Warhol's Interview magazine; and New York correspondent for Italian Vogue
Chantal Spitz, Tahitian author who has written a range of poems, essays and novels and is a founding member of the Tahitian literary magazine Littéramā'ohi
Megan Tamati-Quennell, (Te Ātiawa, Ngāti Mutunga, Ngāi Tahu and Kāti Mamoe), Curator of Modern & Contemporary Māori ∓ Indigenous Art at Te Papa in Wellington, and Indigenous Curator Contemporary Art | Kairauhī Taketake Toi Onāianei at the Govett-Brewster Art Gallery in New Plymouth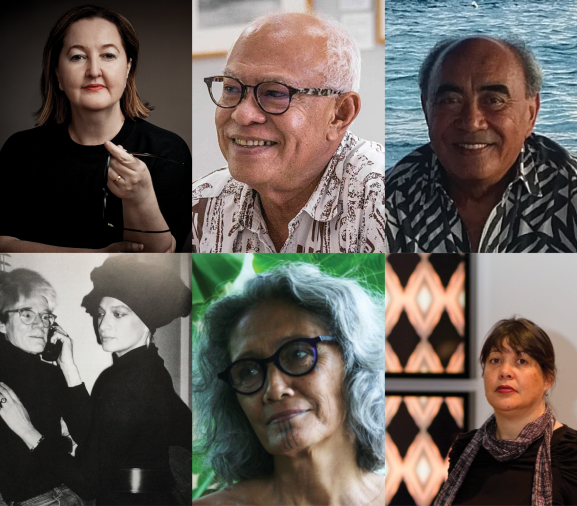 New Zealand at Venice Patrons
Bindy Barclay
Ben Bergman
David Campbell and Claire Chamberlain
Chartwell Trust
Janice Cowdy
Kristin and Andy Cullen
Dean and Chanelle Farmer
Kent Gardner
Dame Jenny Gibbs
Kate Gillespie
Josephine and Ross Green
Paul and Nicky Gough
Sophie and Nick Henderson
Hanlin and Kate Johnstone
Jane Kominik
Gabrielle Tasman & Ken Lawn
Peter Macky
Sir Chris and Dayle, Lady Mace
Selene Manning
Leigh Melville
Ian & Alison O'Connell
Georgina and Jolyon Ralston
Carolyn Reid
David and Libby Richwhite
Richard and Angela Seton
Andrew and Jenny Smith
Madelene Strong
Chris and Charlotte Swasbrook
Andrew and Francesca Tait
Jamie Te Heuheu
Jenny Todd
Rebecca Turner
Jan and Claire Warburton
Lenore West
Simon Vodanovich and Lynn Whitfield
Lyn Williams
David Wilton
Anthony Wright
Paradise Camp Donors
Philippa Archibald
Jim and Mary Barr
Bob and Sue Berry
John and Sue Buchanan
Adrian Burr
Philip Carter Trust
John and Rose Dunn
Joy Durrant
Steve and Virginia Fisher
Reuben Friend and Courtenay Johnston
Dame Jenny Gibbs
Rob and Roz Greig
Hubbard Foundation
Bryan and Penny Hutchins
Dick and Jillian Jardine
Julian and Lizanne Knights
Chris and Kathy Parkin
Post Family
Paul and Heather Rea
Jack Richards
Mark and Rachel Rose
James and Linda Sclater
Roger and Christine Sharp
Grant and Sharyn Stalker
John and Mary Thompson
Josephine and Ross Green
Samuel Belk and Sherry Thornburg
Maureen Tukaroa-Betham
NZ at Venice Executive Committee
Caren Rangi, Commissioner of New Zealand's presentation at the Biennale Arte 2022 and Chair of the Arts Council of New Zealand Toi Aotearoa 
Claire Chamberlain and Leigh Melville, Heads of New Zealand at Venice Patrons
Charlotte Davy, Head of Art, Museum of New Zealand Te Papa Tongarewa 
Reuben Friend, former Director, Pataka Art + Museum
Courtney Sina Meredith, Director, Tautai
Creative New Zealand staff, Cath Cardiff, Angus Evison, Haniko Te Kurapa
NZ at Venice Project Team
Commissioner of New Zealand's presentation at the Biennale Arte 2022 and Chair of the Arts Council of New Zealand Toi Aotearoa: Caren Rangi
Kaihautū Haniko Te Kurapa
Project Director Jude Chambers
Senior Managers Cath Cardiff and Angus Evison
Project Co-ordinator Rubee Prattley-Jones
Communications Heather Byrne
Audience and Development Manager Cassandra Wilson
Business Service Team Paul Dow and Anne Joyce
Venice Exhibition Manager Diego Carpentiero
Exhibition Designer Anita Gigi Budai
Designer Ashlea O'Neill, Salt Camp Studio
Website and Virtual Explore Developers TBWA and Digital Arts Network
Event co-ordinator Alice Tibaldi
Special thanks to Creative New Zealand Toi Aotearoa staff Makerita Urale, Kawika Aipa and Paul Lisi. 
Special acknowledgment to the New Zealand Embassy in Italy and its staff: Anthony Simpson, New Zealand Ambassador to Italy, Daniel Wai-Poi, Deputy Head of Mission, and Claudia Grosso, Policy Adviser. Their continued support ensures a successful presentation of New Zealand art at the Biennale. We would also like to thank Trevor Matheson, the New Zealand High Commission to Samoa, Head of Mission, High Commissioner, and Reece Fitzgibbon, Second Secretary (Trade and Economic).
Join the

Paradise Camp


mailing list
This message is only visible to admins.
Problem displaying Facebook posts.
Click to show error
Error: Server configuration issue