Erin McFarlane, our final attendant to look after Post hoc at the Biennale Arte 2019, writes about her time in Venice, including experiencing the unprecedented Acqua Alta in the final days of the Biennale.
One of the most fascinating things about Dane Mitchell's Post hoc is that you can never fully experience it; the work is constantly evolving, and peoples' reactions to it shift with the tide of paper flowing on to the library floor.
Presenting Post hoc at the tail-end of the Biennale is a very unique experience. What was once a crisp space full of clean lines now presents as organised chaos, and when people turn the corner into the space, they are instantly overwhelmed by the data overload. It's very rare not to hear a gasp, a "wow" or the odd "Mamma mia!" when people first lock eyes on the library of the Palazzina Canonica. As one visitor put it, "When overwhelmed by data, we lose perspective, or a sense for what's still here".
---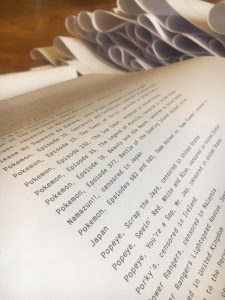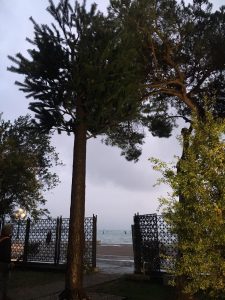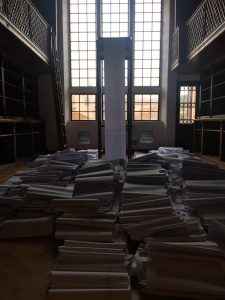 ---
As the list grows and grows, people connect more and more. No matter what they find on the floor of the library, or what they hear spoken from the trees, people linger, and they want to know more. In a sea of information, people search for what they recognise, and the last few weeks' worth of lists have provided some wonderful bouts of nostalgia.
The list of censored films and broadcasts has many people wondering which parts of Popeye or Pokemon could have been lost as they were not deemed appropriate for audiences of their time. Others are excited to see the Nokia 5110, the classic brick phone, on the list of discontinued mobile phone models. Almost once a day someone will remark that it was their first mobile, and will reminisce about the days of hip holsters and three-day battery life.
In the same way that Dane Mitchell's archive of lost things is partly a reflection of himself, people see themselves in it too.
The Acqua Alta season has taken a huge toll on Venice, and is a sign of the resilience of this city's people that visitors are not deterred from visiting Palazzina Canonica. People in coats and high boots sit around the tree bases, listening to the lists being projected out into the drizzly weather, and we are so grateful to be in a position to keep Post hoc open for the last weeks of the Biennale.  One visitor said of the library "The words fall like endless rain, and now there is a flood!" It's a very fitting summary of Post hoc and Venice, two well-suited partners.
---
Erin McFarlane
Erin is the Loans and Acquisitions Advisor for the Museum of New Zealand Te Papa Tongarewa. In addition to her experience with negotiating and facilitating incoming and outgoing exhibition loans at Te Papa, Erin was seconded to the arts team as Exhibition Registrar for their 2018 Toi Art exhibition. Erin has also held audience engagement roles as visitor host at Waikato museum and Artspost (2011-2013), and National Museum of Crime and Punishment (2013-2014) in Washington DC. She completed her Bachelor of Arts in 2011 at the University of Waikato.